My Pet Trap was a little too small so I had some modifications made to it. On paper the Pet Trap should have been about the same size as the jailbird I am currently in but the design is more restrictive so it ended up being a little too small. In some ways it fit fine and it was very comfortable. The major problem was there just wasn't enough room at the 'head' for all the bunched up skin and it took a lot of fidgetting to keep things straight.
Obviously I didn't want to just abandon it and it wasn't working out for long term wear like I had hoped so I sent it off for some customization. I wanted to have the original bars at the end cut off and a new cap put on like the end of 'The Dungeon' This would give a little more room at the end and make the bars a bit more rounded like on the jailbird.
I haven't had a chance to try it out yet but wanted to share a picture anyway.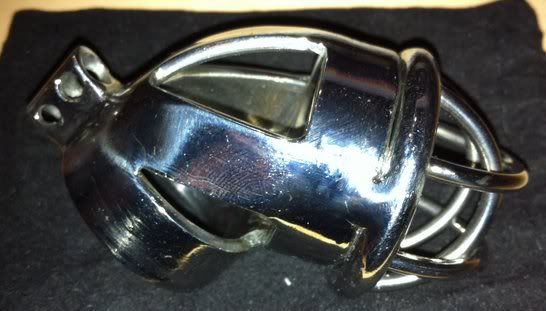 Hopefully I will get a chance this weekend to give a test.
-A