I got sucked into a discussion on another forum, and it gave me an idea. This is something that I've been thinking about for a while, but only just had the light bulb blink on.
We all "know" what the term "permanent" means. Unfortunately, none of us can agree on it.
Because the conversation come up several times a month, and because everybody has their own variation on the definitions, I'm going to propose a matrix, similar to those political or religious ideology matrices that you see all over social media.
For you geeks, I've defined the two variables as: Chastity (i.e., the wearing of a device) and Denial (i.e., the allowing of orgasms). This is because whenever we discuss it, the two are inevitably intertwined, which is one of the reasons why we can't seem to agree on the terms, or we spend so much time explaining our own definitions.
The matrix is set with the variables on the Chastity scale from Always Locked to Never Locked, and on the Denial scale from Never Allowed Orgasm to Always/Often Allowed Orgasm.
I'm attaching a picture for clarity.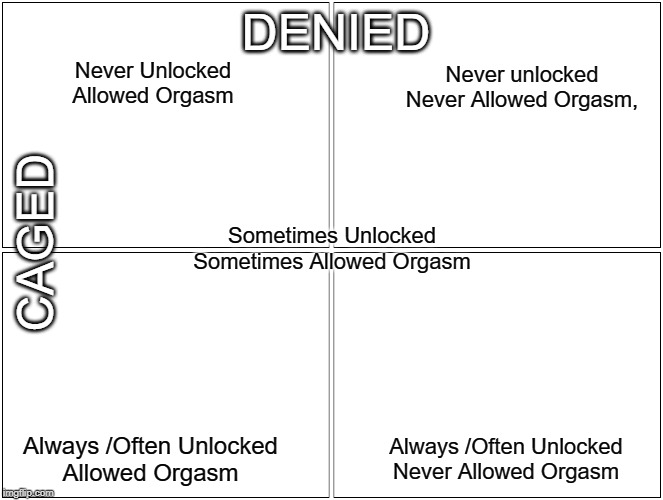 I'm offering this up for feedback. I thought about assigning each box a 1-5 scale to help those so inclined to more closely identify or explain how their own particular situation works. For example, if I'm almost always locked except for medical or travel, but I'm never allowed an orgasm, that might be a +4,+5. Someone who is locked up for a few weeks, unlocked for some T&D, and has regular orgasms might be a -3, -3. A guy who doesn't wear a device, but is only allowed an orgasm every three months might be -5, +3.
If nothing else, when we get those questions asking about "permanent chastity," someone can respond with "I'm a +3/+3, and my opinion is that..."
Again, feedback welcome.